Boys State is an American Legion sanctioned annual event, held at the University of Texas, Austin, Texas during the month of June.

Post 305 participates and has sent as many as 32 boys to this program at one time.

We always appreciate sponsors of this Program and ask that you consider sponsorship of a student at $295.00 or make an unrestyricted donation to the Post 305 Boys State program.

More information is available at


(note: This is a generic schedule of events intended to provide an overview of what the applicant can expect. The actual schedule will be presented at the event)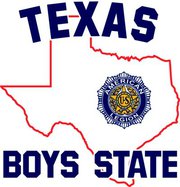 Post 305 Boys State Attendees

2014 - 24 Students

2015 - 22 Students

2016 - 26 Students

2017 - 31 Students

2018 - 28 Students

2019 - 29 Students

The American Legion

The Woodlands Post 305

P. O.Box 9336, The Woodlands TX 77387

281-298-2440 (Leave a Message)

This page was last updated: December 25, 2019